YOGA FOR FIRST RESPONDERS.
BUILD RESILIENCE.
NZD $18/month for unlimited access, cancel anytime.
Yoga for First Responders
I have been a firefighter for 18years+, in Canada and New Zealand, and I created this yoga and meditation program that you can use as a resource to keep your body and mind resilient. Any first responder can use this program whether you are a paramedic, a police officer, or a firefighter.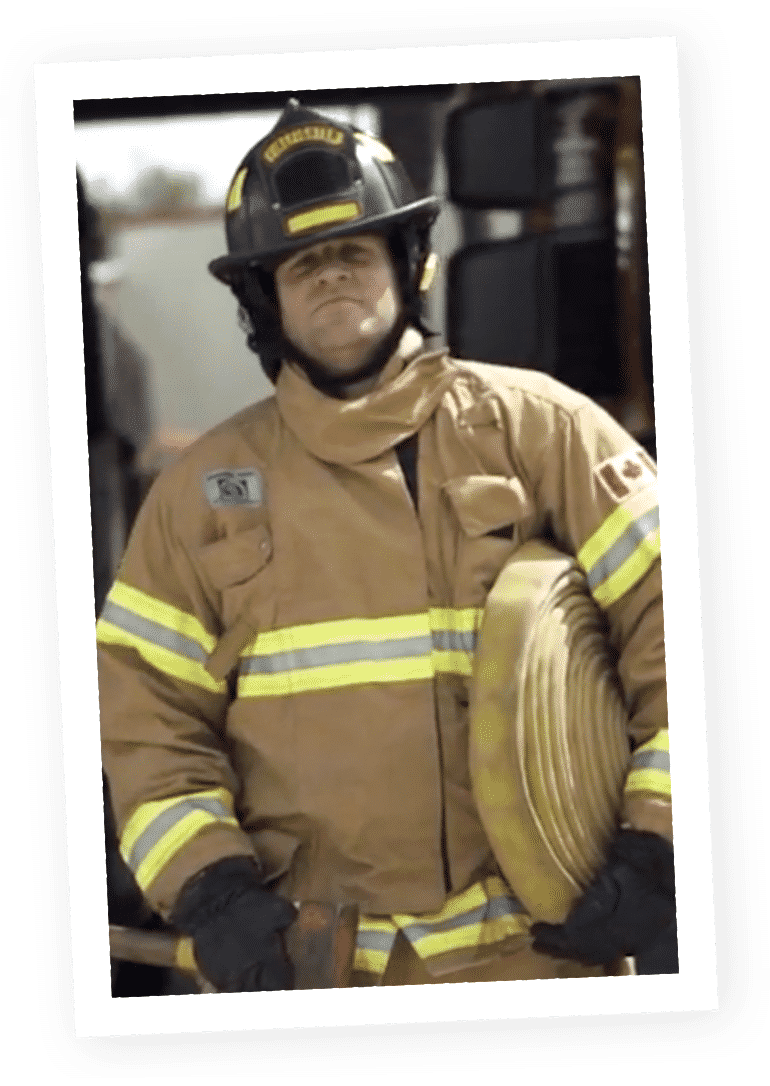 Help for those who help others.
We all joined up because we wanted to make a difference and serve our communities and do a job that would be rewarding. Unfortunately, research shows that first responders are more likely to be diagnosed with a mental health condition than the overall population. Moreover, they are more than twice as likely to think about suicide, and three times as likely to have a suicide plan. These statistics paint a grim picture of the wellbeing of those, like me, who dedicate their professional lives to helping others.
I created this program because of my journey through PTSD and the frustrations I felt trying to get the proper help I needed when I was off the job, and the practical solutions presented to me were few and far between. I committed to doing yoga and meditating and that, coupled with professional help, I finally found something that works for first responders.  Through this revelation, I was able to rebuild my life, my relationships, and return to my job as a full-time firefighter.
About this program.
I have created this resource so you have a yoga program taught by someone who has faced similar situations to you and can offer a pragmatic approach to yoga that is robust and effective. This program has 20 different classes that you can use at home, at work, or wherever it suits you.
Some classes introduce you to yoga, relaxing classes to help you unwind, and some challenging ones when you want to build strength and flexibility in your body and mind. Moreover, I created a mediation and breathing program that helps you develop techniques to keep you present and mentally resilient so you can continue to serve your community.
This program is not designed to diagnose or solve all the issues that can arise if you have faced a PTSD or other mental health diagnosis. I recommend you tap into the resources your employer may have available, and I highly recommend you take advantage of them.
I designed this program to augment those resources and give you practical ways to use yoga and meditation to diffuse stress, keep you in the present, and keep you able to do the job you love.
These classes are for those that are new to yoga and unsure where to start or what yoga is about. You will get an introduction to yoga that will cover all the bases and help you start with a good foundation. As a result, you will have confidence and knowledge so that when you move on to other yoga classes, you'll understand what you're doing and why it so important to do regularly.
These classes are in a yoga style called Hatha yoga, so if you like these classes, you try the other Hatha yoga classes elsewhere on the platform.
If you are looking for a challenge to see what your body and mind can do, check out these classes. Each class here gets progressively more difficult so that you can continue to find ways to build some heat and sweat. These classes are specifically for firefighters, Police and Paramedics, so come back to them any time you need a kickstart in body and mental resiliency.
These classes are in the Vinyasa style, and the final class is a power yoga class. If you are looking for more places to challenge yourself, then look to these classes once you've done these here.
As first responders, it can be hard to slow down. We go from job to job and then from work to home, and this can all be at a frantic pace. Having the ability to multi-task and act quickly allows you to do your job, but we need space to unplug, unwind, and slow down; these classes achieve this goal.
These classes are in a yoga style called Yin. If you like this style of class, you can use other Yin classes on the platform to get the same types of benefits.
These are some of the most important classes you can practice in this program. You will learn different ways to breath that will help you relax and unwind when life gets busy or stressful.
There are also classes so you can learn to develop a mediation practice. By practicing regularly, you will learn how effective mindfulness and meditation can be to keep your mind working at its best. This is a pragmatic approach so you can learn and practice without there being a bunch of fluffy language to distract you. The classes are direct and to the point, so you can achieve a lot of benefits in a short amount of time.
Both class styles work with each other so you can practice one, the other, or both (do the tactics before you do the strategy classes). If you can develop a daily practice doing one or both of these classes, you will learn ways to be mentally tough. The classes will give you robust tools to deal with the job when it doesn't go right, you experience or witness traumatic events, or things get hard, fast.
These are designed specifically for you, the first responder, so come back to them as often as you need.